5 datacenters spread all over Belgium and Luxemburg – fully equipped with carrier grade security systems and smoke & fire prevention – are at your disposal to simplify your IT. These datacenters are tailor-made to accommodate high-end systems, with plenty of air-conditioning capacity, backup power and redundant WAN connections. Optional gateways to high-speed, private, direct connections of hyperscalers, possible local, agile and flexible SLA-driven Managed Services. Our datacenters contain clusters with isolated physical interconnection paths, guaranteeing connections even in case of cable breakage.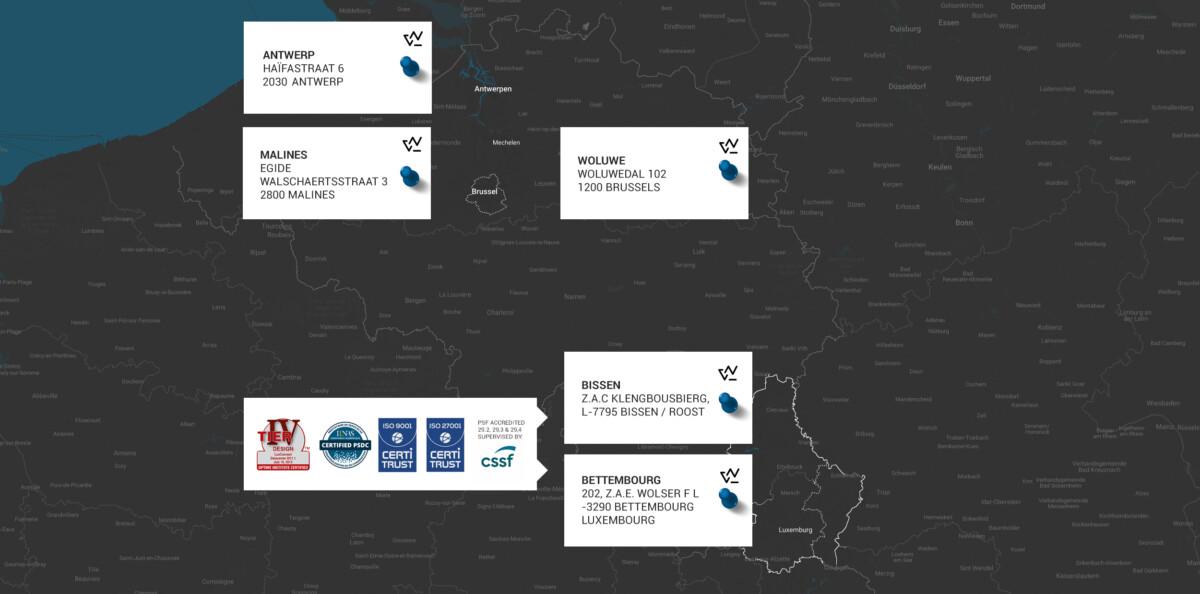 OUR LUXEMBOURG DATACENTERS:

TIER IV

COMPLIANT DESIGN

Tier IV setups are currently impossible to establish in Belgium. As a European Service Provider with offices located in Luxembourg, France and Italy, however, we can redirect any client or project requiring Tier IV Compliance effortlessly and safely to one of our foreign datacenters. That's a huge advantage in our book!

Now, what's so special about Tier IV, then?
Well, a Tier IV datacenter can be described as the highest obtainable standard or certification. Simply put, it's the pinnacle of the industry. It's completely redudant and fault tolerant, meaning that it contains no single point of failures: every system (be it mechanical or electrical) can continue operating without interruption if a component fails. How? By making use of backups to a factor or three (or in datacenter terms "2N" = Need x 2 = there are always 2 substitutes).

That way, a high availability as well as promised continuity of mission-critical applications can be ensured. Needless to say, the costs to build and/or maintain such infrastructures are quite high…but that's not really something our clients have to worry about.
OUR BELGIAN DATACENTERS:

TIER III

COMPLIANT DESIGN

Tier III datacenters – the highest possible grade available in our beautiful little country – contain concurrently maintainable systems. In IT lingo, they are described as being N+1 (= Need plus 1). Their redundancy allows for temporary disabling in case of maintenance or failure – without causing any downtime to your data or operations.
WESTPOLE as your datacenter custodian.
Or in other words: Datacenter as a Service (DCaaS). That means your own datacenter, but with an extremely experienced custodian: us! Here's our résumé:
High-level competences in IT Infrastructure Technology & Cloud Services
+10 years of experience in Managed Services
Always offers low-latency, flexible access to the WESTPOLE Cloud Services.
You've got the server – we'll put a roof over it.
Our datacenter 'Housing' solutions are a perfect fit if you're looking for a safe haven for your hardware. Safe…and very efficient, we might add. The WESTPOLE centers, which are at least Tier III compliant, offer a lot of advantages to their visitors and residents: high-speed connectivity, high resilience, very low-latency cross-connects, guaranteed connections even in case of cable breakage and much more.
Forget the worst case scenarios
with our Disaster Recovery solutions.
We guarantee optimal security if your replicate your data to our data centers. Securely connect your site with ours through direct connections or through a secure VPN connection. And in case of disaster; quickly switch to our servers using standby capacity. As trusted advisor WESTPOLE can help you test and fine-tune your business continuity plans without impacting your live infrastructure.

Contact our dedicated
Datacenter Services Expert!

Curious to find out more?
Or can't figure IT out?
No need to throw your device out of the window!
We've got (almost) all the answers…right here.
Our experts are eager to assist you in any way possible
and they're just one click away.

Contact our dedicated Datacenter Services Expert!